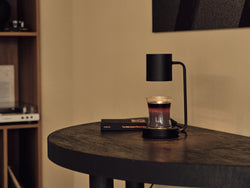 Cozyberry
Querencia (Black) Candle Lamp
About this item
【Strong, Clean,Pure Scent Within Minutes】 The Cozyberry candle warmer melts the candle by utilizing the top-down technology, releasing strongest, Purest and cleanest fragrance that lasts twice as long as burning. Double the value of your candles' scent simply by warming rather than burning.

【Keep Your House Safe From Fire】 18,600 house fires are caused by candle fire in the US each year. Say Good Bye to indoor flames, smoke, and soot. Safely enjoy your favorite candles with our candle warmer don't burn candles, melt them safety.

【Fits All Candle Sizes】 Enjoy the fragrance of your favorite scented jar candles such as the Yankee candles, Bath and Body Work 3 Wick Candles and more! Cozyberry candle warmers are engineered to last long so you can safely enjoy it for years.

【Perfect for Sleep Light】 Create the perfect mood by easily adjusting your lamp's brightness with the built-in dimmer switch. The color temperature of the halogen light (50-Watt Bulb Included) is a magical 2800k, similar to most night lamps.

【Beautiful Home Decor】 An elegant yet simplistic design is at the heart of every Cozyberry product to complement your surroundings. Gift your family, friends, and Mostly Yourself with Cozyberry's newest candle heater.

Color: Black.